Hike for Hospice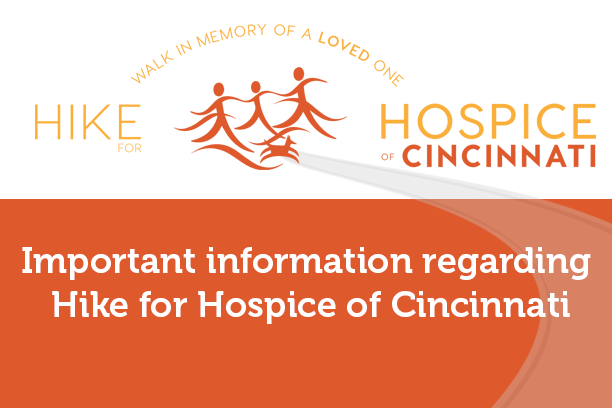 Due to the current health crisis, Hike for Hospice of Cincinnati scheduled for September 12, 2020 is cancelled. While we are disappointed that we will not be able to spend the morning together, the health of our community is most important to us.
Hospice of Cincinnati still needs your help! Consider supporting Hospice's new initiative, Shine on Hospice of Cincinnati!
Shine on Hospice of Cincinnati: From July 20th – August 2nd, bring joy and comfort to patients in Hospice care by purchasing a suncatcher to be placed in the windows of patient rooms at the IPCC's and delivered to in-home care patients. A special uplifting message will also be delivered with the suncatcher. Each suncatcher will be $25.
If you have any questions or are interested in our sponsorship opportunities, please contact Kristen Sellan at 513-865-1621 or kristen_sellan@trihealth.com