Grants & Scholarships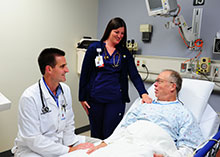 The Bethesda Foundation offers funding to support research, clinical improvement, scholarships and other transformational projects at Bethesda hospitals. Each year, The Bethesda Foundation awards over $200,000 in Clinical Improvement & Research Grants to Bethesda North Hospital.
Funding Opportunities Overview
The Bethesda Foundation provides five types of funding opportunities:
Medical Research Grants (open to any eligible team member)
Clinical Improvement Grants (open to any eligible team member)
Community Outreach Grants (by invitation only)
Nursing Student Scholarships (open to Bethesda School of Nursing students)
Auxiliary Junior Volunteer Scholarships (open to high school aged volunteers at Bethesda North)
Please see the menu to the left for all required grant forms and scholarship applications.