Hospice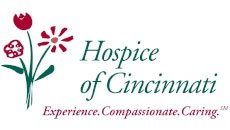 Hospice of Cincinnati
The nation's fourth oldest hospice, Hospice of Cincinnati's mission is to create the best possible and most meaningful end-of-life experience for all who need care and support in our community. Specializing in providing comfort, compassion and personalized end-of-life care to all those in need, our caregivers are widely recognized as industry leaders in hospice and palliative care. Hospice of Cincinnati recognizes the importance of providing compassionate guidance to help people work through their grief.
For more information about Hospice of Cincinnati, call 513-891-7700.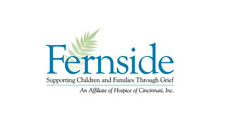 Fernside
Established in 1986, Fernside is the nation's second oldest children's grief center and a national leader in providing grief support services, outreach and education to the community. An affiliate of Hospice of Cincinnati, Fernside services complement Hospice of Cincinnati's comprehensive bereavement program by addressing the unique needs of children and families.
For more information about Fernside, call 513-246-9140.
Goldstein Family Grief Center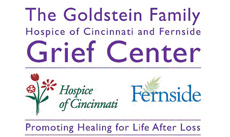 The Goldstein Family Hospice of Cincinnati and Fernside Grief Center is the first comprehensive grief center in Greater Cincinnati focusing on both adult and children's grief. This unique facility provides a place for people of all ages in our community to share their feelings of loss, deal with their grief and learn to find joy in their lives again. Services are free and available to all, regardless of whether their loved one was cared for by Hospice of Cincinnati.
For more information about area support groups or any services provided by the Goldstein Family Grief Center, please call Hospice of Cincinnati at 513-891-7700 or Fernside at 513-246-9140.